Omnichannel Marketing for Restaurants: 5 Key Strategies to Increase Customer Brand Recall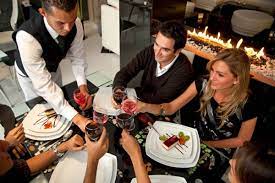 The restaurant industry is undergoing rapid change. A seamless, connected customer experience is essential to winning customers' trust. It doesn't matter if your restaurant receives orders over the phone or in person, but it is crucial to have an omnichannel strategy that meets customers' needs. This article will provide effective restaurant omnichannel marketing strategies, which are essential for any restaurant business.
Omnichannel Marketing Strategies For Your Restaurant
An omnichannel marketing approach is essential to reach new customers and generate additional revenue streams. Below are the top omnichannel marketing strategies that will work for your restaurant.
Keep consistent branding
Ensure that your branding is consistent across all channels, whether ordering take-out, online ordering, or dine-in. Consistency in branding across all marketing channels is key to customer recall. Many customers may be reluctant to eat at the restaurant due to Coronavirus. This is a great opportunity for your marketing team to emphasize replicating the same dining experience on social media.
Connect with Consumers
Multiple channels can make it difficult for your restaurant and customers to communicate at all stages.
If customers are unhappy with a meal or service, you should address the issue quickly. You should survey your customers regularly, especially if you're new to the business and don't have many reviews. This will give you valuable insight into your business's strengths and weaknesses. Use the consistent feedback you receive from customers through different channels to help fuel your marketing efforts.
Influencer Marketing
Restaurants looking to increase revenue and grow their brands have turned to influencer marketing. There is no better way to generate high-quality, user-generated content in the restaurant industry than through influencers. For new restaurants or those with tight margins, getting top influencers may not be an option.
Consider partnering with micro-influencers, influencers with around 10,000 followers or nano-influencers with approximately 1000 followers. It will be cheaper to hire these influencers to represent your brand. This will also result in higher engagement rates because consumers are more likely to be more likely to trust their opinions and to interact with them.
Use customer data to gain business insight
.
Data analytics in restaurants aims to delight customers across all channels. Using restaurant data to improve efficiency and identify growth opportunities can help your business make better business decisions. But in omnichannel restaurant marketing, data-driven insight is even more valuable.
Data analysis facilitates better customer interactions across channels and allows you to provide customized delivery or dining experiences to your customers. Personalization in the restaurant environment is possible through customized ordering/dining experiences. This level of personalization, when done right, can make guests regular and increase their loyalty.
Make the Most of CRM Data
Nurturing customers is key to generating repeat business in the restaurant industry. Email and SMS campaigns can be a great way to strengthen and maintain customer relationships for restaurants using an omnichannel strategy.
You can reach the right customers by segmentation and targeting the right people. Personal messages can include greetings on birthdays, special perks for valued guests, or an incentive to visit. Automated workflows will ensure you send these messages at the right times.
You can also engage your customers through SMS and email campaigns. CRM data can be used to collect direct feedback from customers. You can also respond quickly to customer reviews and establish a personal relationship with them.